The download of the Tablacus Explorer installs a free Windows 10 Explorer alternative with tabs and expandability with numerous add-ons.
Tablacus Explorer is also significantly more adaptable than the original Windows file manager and its functions ensure a better overview when dealing with files and directories. Version 21.4.19 of the tool is currently available for download.
Tablacus Explorer download & installation
The Tablacus Explorer does not require installation and can therefore be started directly after unpacking the archive. All versions of Windows from Windows XP are supported. It is started via TE32.exe (32-bit) or TE64.exe (64-bit).
Windows 10 Explorer alternative with tabs
The Tablacus Explorer does not need to be installed and offers a simple user interface that can be configured according to your own preferences, including columns, symbols, or layout.
Also on board are the addition of favorites and quick access to certain directories such as program folders or autostart. There is also a search bar that can be used to locate files and folders
Expandable Explorer replacement
The Tablacus Explorer can be expanded with features such as toolbars or additional buttons via add-ons from the manufacturer's side or directly from the options of the program. There are other alternatives to Windows Explorer with the Total Commander or Q-Dir, among others. If you want to add functions like tabs to Microsoft's standard file manager yourself, you can use QTTabBar.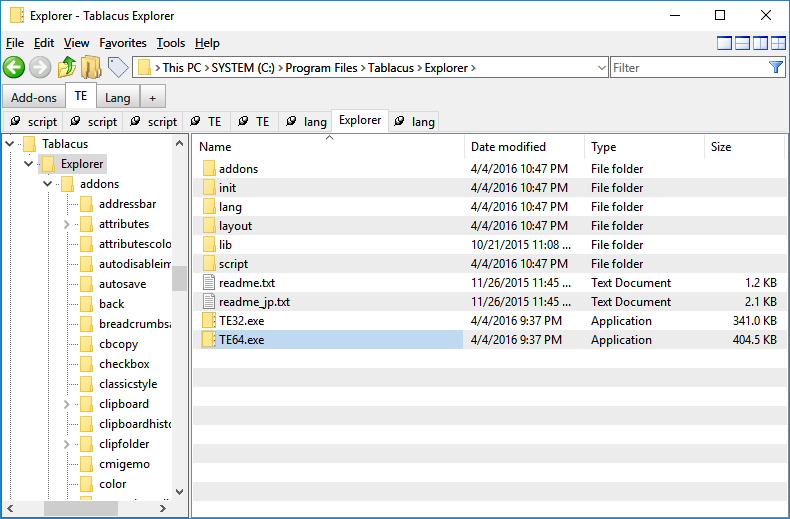 Info & Download
Software Name: Tablacus Explorer
Release Date: Sun, 18 Apr 2021
Supporting Systems: Windows 10 / 8.1 / 8 / 7 / Vista / XP 32-bit / 64-bit.